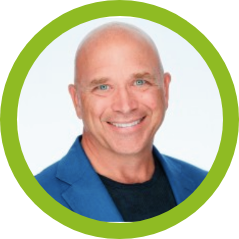 JIM BECKER
At first glance, he may seem to be the successful founder and CEO of Becker Logistics, an expert in supply chain management, a swing dancer, a runner, a helicopter pilot, and a volunteer. He is, in fact, all those things.
Jim learned to focus on the journey of life rather than solely on whatever goal or endpoint may serve as a destination. On this journey, his purpose is to help the people he encounters become a higher version of themselves—to help them to live life without regrets, to feel empowered, and to act with confidence.
Jim begins each morning by reciting a quote from Groucho Marx that reminds himself, "Yesterday is dead, tomorrow hasn't arrived yet. I have just one day, and I'm going to be happy in it."
This is his personal worldview, but it positively impacts our business, too. Becker Logistics prepared for and experienced extraordinary growth over the past five years. They operate seven offices, three in Chicagoland; one in Cincinnati, Ohio; and one in Duluth, Georgia. In 2022, they expect to expand their offices to seven; one in Dallas Ft. Worth, TX and one in St. Charles, MO.
At Becker, the motto is, "If nothing changes, nothing changes." This perspective, combined with Jim's strong belief in every employee, has resulted in top line revenue growth of 1,071% over the past 5 years.